Stamps Banneker/Key Scholars at University of Maryland
The Banneker/Key Scholarship Program at University of Maryland is pleased to partner with the Stamps Charitable Foundation  to offer the Stamps Banneker/Key Scholarship to a very select group of Banneker/Key Scholars.
The Stamps Banneker/Key Scholars join a select group of approximately 400 students from across the nation supported by the Stamps Family Charitable Foundation and are also part of the Stamps Banneker/Key Scholarship Program at University of Maryland.
Each of these students has been awarded a full merit scholarship that covers the entire cost of tuition, room, board, and a book allowance each year for four years of undergraduate study. The Stamps Banneker/Key Scholarship also provides up to $5000 per student to be used for research opportunities, internship experiences, travel to  professional meetings to present, study abroad, or other student-initiated learning opportunities approved on a case-by-case basis.
The Stamps Family Charitable Foundation, Inc. gives grants to its partner colleges and universities to support student scholarships and fellowships. For more information about the Stamps Family Charitable Foundation -»
Meet the 2016 Stamps Banneker/Key Scholars
Catelyn Barnes is a first-year student at University of Maryland and a member of the Advanced Cybersecurity Experience for Students program within the Honors College. She is majoring in Computer Science and plans to study cybersecurity. Graduating in the top two percent of Fairmont Heights High School, she has dedicated her high school career to not only learning but also to outreach, community service, student government, leadership in clubs and honors societies, sports, and computer science. In her free time, she likes to write and swim. She hopes to become influential in the cybersecurity field and to create a program focused on teaching young girls about computer science and goal-setting.



Donald De Alwis was one of the top graduates from Montgomery Blair High School in Silver Spring, Maryland. He is pursuing a pre- med track as an Environmental Science and Technology major with a specialization in Environmental Health, and is a member of the Integrated Life Sciences program in the Honors College. In high school, Donald rowed for the crew team and was the photo editor of the school's award winning online newspaper, Silver Chips Online, in addition to being a member of various environmental and medical clubs. Outside of the classroom, he was an avid volunteer for the American Red Cross and worked as a professional wedding videographer and photographer. In his sophomore year in high school, Donald worked on a documentary for the C-SPAN StudentCam competition, which won first place and led to his internship with Vice President Joe Biden. He used his earnings from the competition to found a nonprofit organization, The Motion Project, to uplift underprivileged children with physical handicaps in his birthplace, Sri Lanka. In his free time, Donald spends his time rock climbing and hiking through his local parks and forests.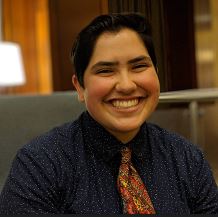 Paula Molina Acosta was a top graduate from Walt Whitman High School in Bethesda, Maryland. She is a Psychology major and a member of the Gemstone Honors Program. She was the president of her high school's LGBT organization, a member of the DC Regional Youth Council with the GSA Network, and mentor to her local middle school's first Gay-Straight Alliance. At 15, Paula became a certified childcare provider in Maryland, and was an intern at Carderock Springs Elementary School in her senior year. Paula, a National Hispanic Merit Scholar, is bilingual, a certified Cervantes Institute (Spain) Spanish speaker. She earned a Certificate of Meritorious Service, and has been a volunteer and counselor with Camp New Friends, a camp for children with neurofibromatosis, a genetic disorder. Paula loves debating, and competed nationally with her school's Congressional Debate team. She also loves to read and write, and she draws and paints in her spare time.
Meet the 2015 Stamps Banneker/Key Scholars
Andrés-Mauricio Arbelaez was one of the top graduates from Dulaney High School in Baltimore County, Maryland. He is a Computer Science major and a member of the Design Cultures & Creativity program in the Honors College as well as a member of the QUEST Honors Fellows Program. At UMD, he is on the Club Rock Climbing team and the planning committee of Maryland's annual hackathon, Bitcamp. Andrés-Mauricio spent summer 2016 learning iPhone app development at Facebook Headquarters in Menlo Park, California. This year, he will be a campus ambassador for Facebook. In his free time, Andrés-Mauricio enjoys listening to rap and jazz music, hacking together apps and websites, and tossing around the old hacky-sack.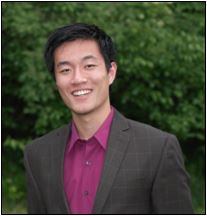 Eric Ding graduated in the top five of his class from Elkton High School in Cecil County, Maryland. He is pursuing a computer engineering degree. At UMD, he is a member of both QUEST and the Entrepreneurship and Innovation Program. He also participated in the Concert Choir's performance of Brahm's Requiem with the Baltimore Symphony Orchestra. In his free time, he enjoys singing, programming personal projects and introspectively wondering why they don't work. This summer he is interning with Booz Allen Hamilton in DC.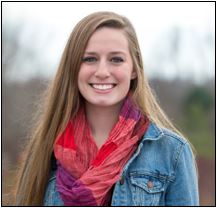 Caroline Simon graduated among the very top students in her class from Glenelg High School in Howard County, MD. She is pursuing a Pre-Med major and is a member of the Gemstone program in the Honors College at the University of Maryland. In high school, Caroline was the President and Secretary of her class and a member of four national honor societies and AP Scholars. She also participated in various school clubs and sports teams. Caroline interned at Select Eye Care, studying advanced cataract surgery methods. She also enjoys spending her time volunteering at Howard County DrugFree and Copper Ridge, a home for the memory impaired. As a result of her many volunteer hours, she received the President's Volunteer Service Award. Caroline looks forward to furthering her Alzheimer's research at UMD.
2014 Stamps Banneker/Key Scholars
Muftiat Ogunsanya graduated number one in her class from Reservoir High School in Howard County. She studies computer science on the pre-med track, and she is a member of the Design Cultures, and Creativity (DCC) program in the Honors College and the Office of Multi-Ethnic Student Education's Academic Excellence Society. She is currently an undergraduate research assistant for the University of Maryland's Clinical and Cognitive Neuroscience Laboratory. Additionally, Muftiat is an ambassador for the College of Mathematical and Natural Sciences as well as the Honors College. In summer 2016, she conducted medical imaging research in the radiology department at University of Chicago Hospital as a part of the Medix program through NSF Research Experience for Undergraduates. Muftiat's hobbies include traveling, cooking, and watching movies.
Joseph Piscitelli was one of the top graduates from Christopher Columbus High School in Miami, Florida. At the University of Maryland, he is an Accounting major and a member of both the QUEST Honors Fellows Program as well as the University Honors program. Additionally, he serves on the executive board of his fraternity, Kappa Alpha Order, as Number V (Historian). In summer 2016, he attended an externship with PriceWaterhouseCooper in Washington, D.C., then worked as a camp counselor at the University of Miami's Mini Canes Sports Recreational Camp. In his free time, Joseph enjoys rooting for Philadelphia and Miami sports teams, playing golf, and watching The Office.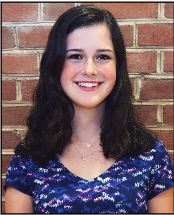 Katie Goetz was the number one graduate in her class from Oakdale High School, just outside of Frederick, Maryland. She studies Mechanical Engineering major and is in the University Honors program. At the University of Maryland, she is the Vice President of Membership Programming for the Alpha Chi Omega sorority. She is also the Junior Vice President of Pi Tau Sigma, an honors mechanical engineering fraternity, as well as an ambassador for the Clark School of Engineering. In the fall, she returns as a teaching fellow for the Introduction to Engineering course for her third semester of teaching. Through the Stamps Scholars program she has had the opportunity to serve and as a Stamps Scholar board member, attend the national convention in Atlanta, GA, and attend a robotics conference at the US Naval Academy. During summer 2016, she will be interning for Textron Unmanned Systems as a systems engineering intern. She plans to study abroad in Glasgow, Scotland during the Spring 2017 semester.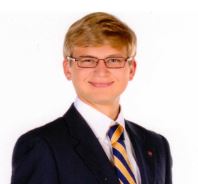 Christopher Bambic graduated within the top ten students of his class at Saint Ignatius High School in Cleveland, Ohio. At Maryland, he majors in both physics and astronomy and conducts research in theoretical astrophysics with Dr. Christopher Reynolds, using high performance computer simulations to study the physics of how supermassive black holes affect the evolution of the universe. In freshman and sophomore years, he worked on studying photomultiplier tubes to better the performance of the High Altitude Water Cherenkov (HAWC) Gamma Ray Observatory located on the Sierra Negra volcano in central Mexico. Last summer, he worked at NASA Goddard Space Flight Center with the Laser Interferometer Space Antenna (LISA) Pathfinder mission, a joint ESA-NASA mission launched in December of 2015, which demonstrated the technologies necessary to detect gravitational waves in space. He spent summer 2016 at Boston University using supercomputer simulations to study the interaction between our Sun's solar wind and the surrounding interstellar medium. Outside of research, he worked as a Teaching Assistant in the Astronomy Department; he is the web designer for UMD's Society of Physics Students and AstroTerps; he serves as a trustee for the UMD chapter of the Knights of Columbus; and he enjoys following UMD and Cleveland sports.