Banneker/Key Scholars Program
The Banneker/Key Scholarship gets its name from two very prominent figures in American history, Benjamin Banneker and Francis Scott Key, both of whom resided in Maryland. This exceptional scholarship opportunity is offered to only a select group of applicants who have demonstrated significant academic leadership and accomplishment in high school.
All freshman applicants to the University of Maryland who meet the priority application deadline of November 1 and are invited to the Honors College are considered for nomination to the Banneker/Key Scholarship. No additional application materials are required. The Banneker/Key Scholarship Selection Committee members carefully review the entire application of each Banneker/Key Scholarship nominee. Semifinalists for the scholarship are invited to campus for an interview as part of the final selection process. Each fall, we welcome about 150 new Banneker/Key Scholars to campus.
In selecting Banneker/Key Scholars, the Committee seeks to identify potential academic leaders, who as individuals and as a group, will enrich and benefit from the campus learning environment.
News About Our Scholars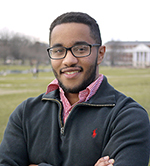 Elfadil Osman '17 (pictured right), a biological sciences major and Gemstone honors student received a 2017 Gates Cambridge Scholarship. Osman is only the second student in university history to be awarded this scholarship. He plans to pursue a Ph.D. in biochemistry at the University of Cambridge. "Elfadil is an exceptional young man who epitomizes the value of an honors education at a public research university," said Susan Dwyer, Osman's Gemstone team mentor and executive director of the Honors College at UMD. "He is an exciting scientist and a reflective human being fully attuned to the ethical dimensions of his work. I have enjoyed being regularly on the receiving end of Elfadil's probing questions for the past three years." Read more about Osman and the Gates Camridge Scholarship.
Aaron Solomon '17, a graduate of Integrated Life Sciences, was named a 2017 Marshall Scholar. Solomon majored in biological sciences with a specialization in cell biology and genetics and minored in computer science. He plans to pursue a Master of Science degree in genomic medicine at Imperial College London followed by a Master of Philosophy degree in bioscience enterprise at the University of Cambridge. Read more about Solomon's plans here.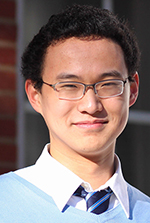 Fang Cao '15 (pictured right) was selected as a 2015 Rhodes Scholar to pursue a graduate degree in medical anthropology at the University of Oxford. Cao graduated from Integrated Life Sciences and earned a BS in biological sciences with a specialization in physiology and neurobiology. He won the Spirit of Maryland award in 2014. He is also the first University of Maryland student to be named both a Truman and Goldwater Scholar.
Seniors Christopher Bambic and Prayaag Venkat were awarded Goldwater Scholarships for 2017. Bambic is an astronomy and physics double major who is interested in the role plasmas play in active galactic nuclei feedback in galaxy clusters. Venkat is a computer science and mathematics double major who is studying ways to solve complex problems with approximation algorithms. Both scholars are members of the University Honors Program. Read more about their research here.
Mackenzie Burnett '15 was selected for Forbes' 2017 30 Under 30 list. Burnett earned her BA in Government and Politics and International Relations and completed the University Honors Program. Burnett and fellow alumnus Dan Gillespie founded Redspread, a collaborative software deployment tool. Their start-up was acquired by CoreOS, a platform for simplifying container management, and MacKenzie is now head of product for the company. She is also the Executive Director of Interact ATX, a non-profit that helps connect young technologists and thinkers.
Akshay Goyal '10 was also selected for the 2017 Forbes 30 Under 30 list. Goyal earned a BS in Finance and completed the Gemstone program. Goyal is the youngest person to become vice president of the investment firm Starwood Capital Group. Read more about Burnett's and Goyal's work here.