Banneker/Key Scholars Program
The Banneker/Key Scholarship gets its name from two very prominent figures in American history, Benjamin Banneker and Francis Scott Key, both of whom resided in Maryland. This exceptional scholarship opportunity is offered to only a select group of applicants who have demonstrated significant academic leadership and accomplishment in high school.
All freshman applicants to the University of Maryland who meet the priority application deadline of November 1 and are invited to the Honors College are considered for nomination to the Banneker/Key Scholarship. No additional application materials are required. The Banneker/Key Scholarship Selection Committee members carefully review the entire application of each Banneker/Key Scholarship nominee. Semifinalists for the scholarship are invited to campus for an interview as part of the final selection process. Each fall, we welcome about 150 new Banneker/Key Scholars to campus.
In selecting Banneker/Key Scholars, the Committee seeks to identify potential academic leaders, who as individuals and as a group, will enrich and benefit from the campus learning environment.
News About Our Scholars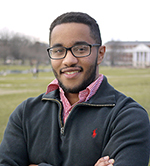 Elfadil Osman (pictured right), a biological sciences senior and Gemstone honors student received a 2017 Gates Cambridge Scholarship. Elfadil is only the second student in university history to be awarded this scholarship. He plans to pursue a Ph.D. in biochemistry at the University of Cambridge. "Elfadil is an exceptional young man who epitomizes the value of an honors education at a public research university," said Susan Dwyer, Osman's Gemstone team mentor and executive director of the Honors College at UMD. "He is an exciting scientist and a reflective human being fully attuned to the ethical dimensions of his work. I have enjoyed being regularly on the receiving end of Elfadil's probing questions for the past three years."Read more about Elfadil and the Gates Camridge Scholarship.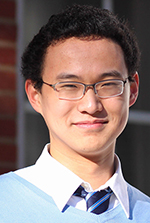 Senior Banneker/Key Scholar Fang Cao (pictured right) was selected as a 2015 Rhodes Scholar to pursue a graduate degree in medical anthropology at the University of Oxford. Fang won the Spirit of Maryland award in 2014 and is a Banneker/Key scholar pursuing a degree in biological sciences with a specialization in physiology and neurobiology. He was already the first University of Maryland student to be named both a Truman and Goldwater Scholar.
Banneker/Key Scholar Rafael Setra (pictured left) was awarded a scholarship by the Barry M. Goldwater Scholarship and Excellence in Education Foundation, which encourages students to pursue advanced study and careers in the sciences, engineering and mathematics. Setra, a double major in mathematics and electrical engineering, conducts research with Thomas Murphy, electrical and computer engineering professor and director of the Institute for Research in Electronics and Applied Physics; Rajarshi Roy, physics professor and director of the Institute for Physical Science and Technology; and Wojciech Czaja, mathematics professor. Setra placed second nationally in the Siemens Competition in Math, Science and Technology in 2010. The Goldwater Scholarship program was created in 1986 to identify students of outstanding ability and promise in science, engineering and mathematics, and to encourage their pursuit of advanced study and research careers. The Goldwater Foundation has honored 47 University of Maryland winners since the program's first award was given in 1989.
Morgan Goodspeed, Banneker/Key Scholar '09, Harvard Law School '12, graduated Summa Cum Laude from Harvard Law School in 2012 and was awarded the Fay Diploma, awarded to the graduating Harvard Law School graduate, by scholarship, conduct, and character, has given evidence of the greatest promise. Traditionally, the Fay Diploma is awarded to the person who graduates with the highest combined average for three years of study in residence at the Harvard Law School. Ms. Goodspeed will clerked for Chief Justice John Roberts and is now is now working for the DC law firm of Hogan & Lovells.